These little additions will help a lot in the speed and efficiency of everyday tasks, but the real goal is to regain some long lost versatility.
When I designed my new shoeing rig, I had decided to focus on single person shoeing only. The design does allow for a lot of versatility from the prospective of one farrier (me) being able to shoe in the moderately broad discipline of english sport horses. I wanted to be able to take care of my dressage, jumper, cross-country and driving clients and I designed my rig to fit how I do those processes.
Now, with William and I doing a lot of handmades and tool making out of the rig, things need to change a bit.
Honestly, the changes are not huge, but they will allow us to do vastly more kinds of things with most of what I already have.
Grinders
The first thing that I really need and do not have is a multiple grinder set-up and some new additions to go on them.
My shoeing process only requires a very basic bench grinder with a heel check wheel to shape the contours of the heels and soften the edges and a wire wheel to further soften the edges so that they are safe and don't grab things (my shoes are silky, lol)
I bought a very versatile 10 inch expanded wheel, which is necessary for tool making. The boxes above are the wheel and also a box full of belts for the wheel.
The picture below is my current grinder with the wheel attached in place of where I had my wire wheel.
I still need my wire wheel to "soften" the shoes and while I'm at it, I will put a buffer wheel on the other side which is nice for sharpening blades and for shining up tools the way I like them
The solution to all this is to get another grinder and attach it to the top of another new grinder that will replace this old one (needs more power). Those will be on a slide out and I will then have all the versatility I need for the foreseeable future.
Bar Stock Drawer
Re organizing my bar stock drawer and the way we cut the stock to size is also changing, but the new tool for that process is on the slow journey here from Canada. Its a simple farrier's vice, but it is a top shelf piece of equipment.
Honestly, the only other tool I've ever been so giddy to get was my flatter. I use that tool every day to give my shoes that special crisp and flatness that I am super proud of. I have never seen anyone else use one outside of competition.
Back to the farrier's vice; when I designed this new rig, that is one of the things that never got built. I really haven't been missing it much, since I haven't been making hand forged shoes. There are other times it would be useful, but I manage to get things done with my bench vice in the truck.
One of the other things that never got built as I wanted was an integrated welding table. I did build a makeshift one, but it needs to be on a slide out or something so that it is permanently attached. I don't want it sliding around and ruining my nice aluminum.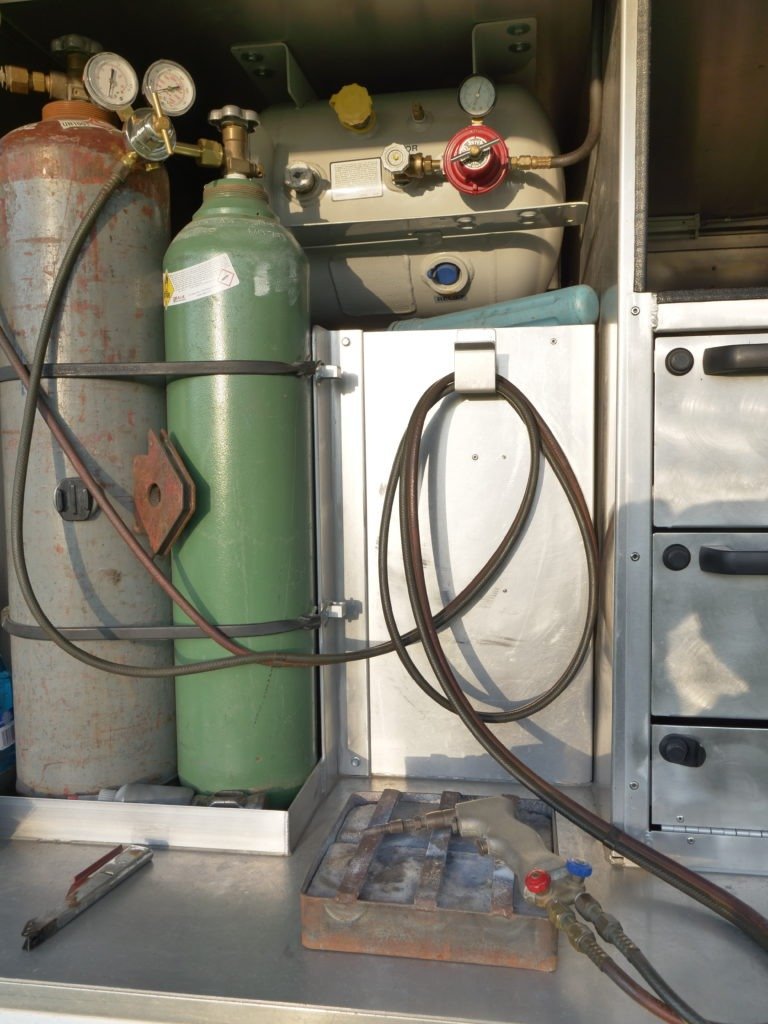 Anyway, I'll post more as I keep working on these. The vice should be here any day now.